Samantha Hedwig Wadiyo is a nutritionist whose love for art led her into ceramics, an art that has transitioned into a full-blown business in a period of six months.
"I have always wanted to start a creative business. I love art and I am always on Pinterest seeing all these beautiful things that I want but are not made here. I started thinking about making them for myself and others," Wadiyo speaks about the genesis of her business idea.
In February, Wadiyo opened a shop as soon as she found a potter and an artist. Her business, Ceramics Central, is now in full operation with uniquely crafted clay ceramic items like planters, pots, jewellery trays among other things. She relies on social media platforms such as Instagram, Facebook, WhatsApp, to sell her products. She also recently signed up with MoTIV to showcase her products worldwide through the MoTIV Shop.
Running a new business has its own challenges. Without any sales at the start, Wadiyo experienced moments of uncertainty two weeks into opening Ceramic Central. A single sale in the subsequent weeks triggered a snowball effect driving clients to her business.
Even though she started out with minimal knowledge about business, the past six months have been a period of learning everything from accounting, graphics to design and using internet resources.
As a result, the journey has been exciting. She finds satisfaction in meeting the market demand, learning more about what people like and eventually seeing her products in people's homes.
The business has experienced some new challenges too. It is receiving more orders than it can quickly deliver.
"We are unable to have a full-time moulder who only handles our orders. So, it puts the delivery time between 2-3 weeks at the moment, which is not fast enough for our enthusiastic customers," Wadiyo says.
Some of the lessons that she has learnt along the way through the challenges is that business requires full commitment, intentionality and delegation of roles. It is against the backdrop of this knowledge that she has on boarded a business partner who complements her skills in ways that enable the business to run smoothly.
With the business up and running, Wadiyo joined the MoTIV creative tribe through Omwoleso, the monthly market for creatives at the maker space. She speaks about the exposure that they have received beyond social media through the monthly markets.
"MoTIV has been one of the best things that happened to our business," Wadiyo says. During her first-ever Omwoleso event to attend, the business sold products worth Shs400,000, an indicator of the huge market potential that Omwoleso provides.
"In the first event, I made encouraging sales of Shs400,000. This gave me more enthusiasm to participate in the next one in April 2021. This last one has been a complete success for me and my business. Besides making sales worth Shs900,000, I also got connected to a number of potential customers and also had an opportunity to interact with fellow artists in the business, with whom we shared new creative ideas and innovations," she explains.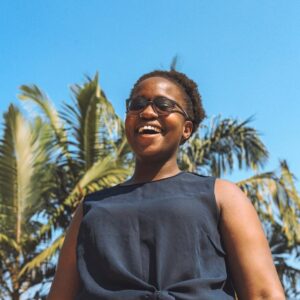 Wadiyo adds that the training at MoTIV about business has been very helpful and as a self-taught business owner, she beamed with excitement at the request to teach other creatives about graphics.
Trainings such as those on search engine optimisation have been useful especially in the current climate where survival for most businesses depends on digital platforms.
While physical markets remain closed, Wadiyo is counting on Omwoleso Africa, an online market created by MoTIV. The platform which enables creatives to sell their products has expanded their market within and outside Uganda.
"We are told each week about how our shops are doing in terms of visits, and we have a lot of visits. Even though we have not yet made sales, I think it's a great way for customers to view our catalogue," Wadiyo says.
With MoTIV's online platforms up and running, she is taking on the initiative to ensure her customers find her as they navigate the internet. Six months in and Wadiyo cannot believe the amount of growth experienced. She is mooting a plan to expand to Kenya's capital city Nairobi, a dream she has held onto for months.
"In this period, most businesses are just figuring out things but for us, the growth has been crazy," Wadiyo says. She has found herself a team of three people, a moulder, a painter and a business partner. She believes that with the linkages and opportunities emanating from exposure at Omwoleso, she is set to grow beyond the boundaries of Uganda.
Proceeds from the business have supported her to meet most of her personal needs. She also continues to plough back the profits to support her expansion plans. Events like Omwoleso offer young entrepreneurs a platform to showcase their products, get feedback from customers, network with potential partners, receive mentorship and other opportunities for business growth. In a time where Ugandans are tasked to stay home or avoid spreading the Coronavirus, creatives no longer have to be divorced from their markets completely because of the lockdown. With Omwoleso Africa, the connection between artists and their markets remains unbroken.