Following a six-month-long hiatus, Omwoleso has once again brought life to MoTIV. The physical market which was halted during the second wave of the COVID-19 pandemic in June returned last Saturday with creatives setting up their stalls to showcase their products, grow their brands and connect with customers at the monthly event.
In attendance at a stall stocked with uniquely crafted Afrocentric earrings is 24-year-old Anita Kanyesigye. She is the brain behind Afraw Dope, an Instagram-based business that sells bespoke jewelry.
Kanyesigye expressed joy at the return of the physical Omwoleso. "Have you heard about that running joke about online shopping, where people talk about being scammed online with pictures of what they ordered versus what they received? Well, as a small business without a physical address, the Omwoleso market allows my clients to physically experience my earrings before they buy them," Kanyesigye says.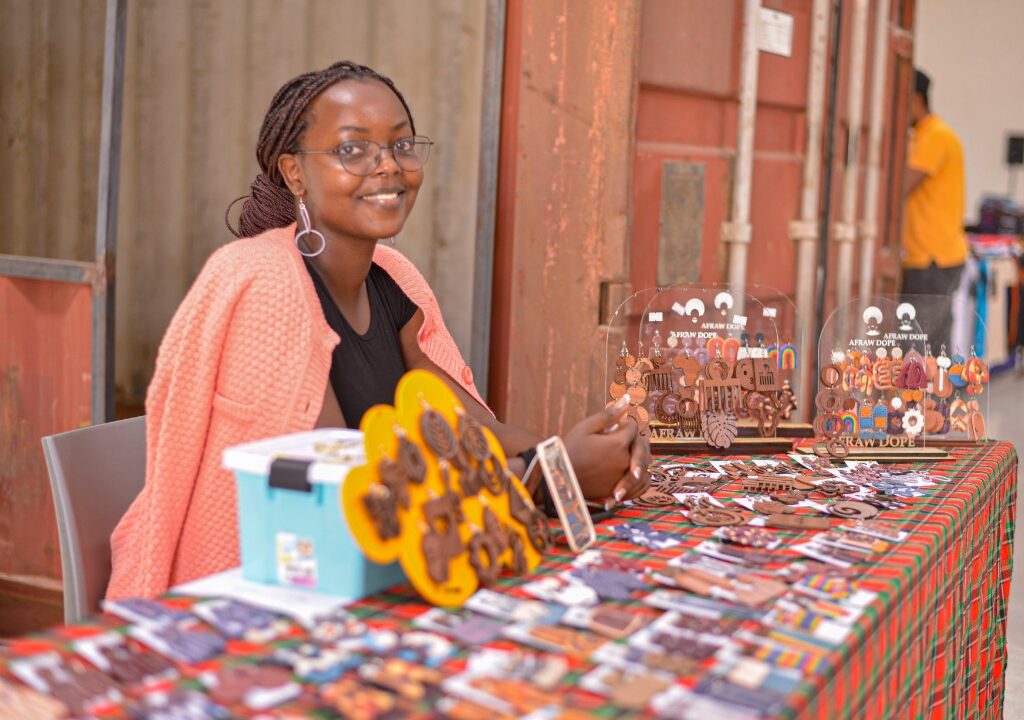 While she is known for making earrings from wood, Kanyesigye is bringing something different to the festive season with her new collection of polymer clay earrings that are colorful and versatile. She anticipates sales from the online discount sales associated with the festive season. The physical market is complemented by the online market platform accessible via omwoleso.africa. It currently hosts creative products including accessories, art, bags, beauty, clothing, crafts, furniture, food, plants as well as home and living products.
Like Kanyesigye, Joel Okalany, a fashion designer specializing in leather bags and apparel, did not miss the opportunity to interact with his customers. Excited as well to display his products at Omwoleso again, Okalany has been selling his merchandise online through the omwoleso.africa platform. Since the closure of the physical marketplace, he has made sales worth Shs3,000,000 on omwoleso.africa. With the physical marketplace and the just concluded Black Friday discounts, his prospects look good.
To him, the idea of Black Friday rakes in income for the creatives while exposing them to more customers. "You will be surprised by the amount of money you can make off the internet," Okalany says.
The Marketplace lead, Nicholas Spencer says that the return of Omwoleso and Black Friday discount deals of up to 50 per cent during last weekend marked a key milestone in the work MoTIV is doing to enable creative businesses grow.
"We started with only physical markets and then during the lockdown, we pushed our work online. Today, we are proud to showcase a fully immersive ecosystem which allows the Small and Medium Enterprises we support, to reach customers where they are and that is online or in person," Spencer says.
He says it is vital to continue creating marketplaces that are dedicated to and designed for creatives. The necessity of these efforts is affirmed in a report by the United Nation Educational, Scientific and Cultural Organization (UNESCO) that indicates that the creative sector has created nearly 30 million jobs worldwide and employs more people aged 15−29 than any other sector. Here in Uganda, the creative sector employs more than five million young people aged between 15−29.
Spencer says initiatives at MoTIV are geared towards creating an experience that works for creatives. This includes innovation in the areas of payments, customer experience and logistics.
As MoTIV works towards building the infrastructure that will change the industry, you can work on the immediate goal of supporting Ugandan creatives by purchasing their products via omwoleso.africa platform this festive season.